Refill Revolution is a movement to change America's disposable mindset and stop the negative impacts our throw-away behavior has on resources, the environment, and the health of living things.
We encourage individuals, industry, and civic leaders to rise up and reject single-use disposable cups, bottles, bags, food containers, and utensils — and to adopt more practical, sustainable and healthy alternatives that are designed to be reused thousands of times.
Your simple actions will contribute to a healthier planet and inspire others to spread these positive principles at work, school, play, and gatherings large and small. Join us and lead the change.
Look for
Refill Revolution
at the 2014
Bonnaroo Music Festival
, where we'll inspire fans & artists to help reduce disposable cup & bottle waste.
Bye Bye plastics! San Francisco bans sale of single-use water bottles on city property. California leads way in environmental policy.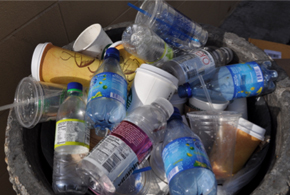 Learn how Zero Waste
strategies can minimize the billions of disposable cups and bottles consumed each year.